Presentation of Ali Ansary: Fellow 2010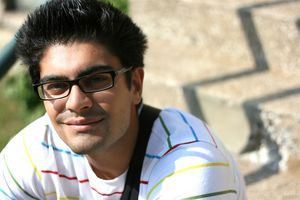 My name is Ali Ansary and I am an Afghan American. My family left Afghanistan in the late 70s from Afghanistan and came to the US as political refugees. I was born in Colorado and have lived in California since I was 12.
In 2008 I helped co-found SeventyK. SeventyK is an advocacy group for adolescents and young adults (AYAs) with cancer. SeventyK represents the approximate 70,000 adolescent and young adults, aged 15-39, who are diagnosed with cancer each year in the United States. For over two decades the rate of progress leading to improved survival for AYA cancer patients has plateaued -- unlike younger and older cancer patients.
SeventyK aims to change cancer care by educating patients, families, and their medical providers about age-appropriate treatment and the unique needs of the adolescent and young adult cancer patient. This, however, will come through new and unique collaborations and is part of a disruptive model to the way we have traditionally provided cancer care. The goal is for every adolescent and young adult diagnosed with cancer to receive the type of care outlined in SeventyK's Adolescent and Young Adult Cancer Bill of Rights.
Today, major cancer institutes have shown their support of SeventyK's bill of rights. We have created a partnership with Rev Theory (Interscope Records), raising funds/awareness for SeventyK. With Rev Theory we filmed a PSA about their new "rock cancer" initiative to support SeventyK, which will be distributed at major retailers and restaurants.
We have also been part of the creation of the International Charter of Rights for Young People with Cancer in collaboration with the Teenage Cancer Trust (UK), CanTeen (Australia & New Zealand) and the Lance Armstrong Foundation (USA).
My motto is to treat others as you want to be treated and that honesty is the best policy.
Final word: life is about the journey and not the destination.