Presentation of James Sevitt Fellow 2010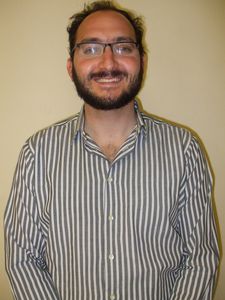 I grew up in Toronto, Canada to British parents who immigrated there after they married in 1972. Toronto was a fantastic place to grow up, along with my one older sister, and remains an incredible city today. The diversity and vibrancy of the city played a large role in opening my eyes to the challenges and opportunities that exist in our ever inter-connected world. I grew up with a strong sense of connection to my local environment, along with strong ties to my family in the UK, to the Jewish community worldwide, and an increasing curiosity about the world around me. I completed my first degree at the University of King's College in Halifax, Nova Scotia, and shortly after this moved to Jerusalem in 2004 for one year as part of the Dorot Israel Fellowship. I then moved to London, UK, and have called this 'home' for the past 5 years. In my first year in London I completed an MSc in Human Rights at the London School of Economics. Since then, I worked for English PEN on free speech issues, as a clerk for the law firm Fisher Meredith, and for the Citizenship Foundation on active citizenship and cross-cultural initiatives. I co-founded New Routes in 2008.
New Routes
New Routes creates and strengthens spaces for education leading to action, and for the growth and promotion of non-violent strategies - all aimed at transforming and urgently pursuing a resolution of the Palestinian-Israeli conflict.
In the UK, New Routes opens up and facilitates spaces in which to ask difficult questions in constructive ways, and to have conversations that inform our political action. New Routes speaks to the varying needs for peace and justice of the various communities invested in the Israeli/Palestinian conflict; by developing and delivering educational workshops, speakers' tours and private and public events that focus on three target audiences: pro-Palestinian communities, pro-Israel communities and the inter faith, cross-communal spheres. In addition, we seek to build coalitions between individuals and organisations in the UK working towards shared goals so as to maximise the impact of our collective work, and to provide channels of communication between the grassroots and opinion-shapers and decision-makers.
In Palestinian society and Israeli society, New Routes works with local partners to support their non-violent work on the ground focused on transforming and strengthening their societies, and to raise awareness about their work in the UK and elsewhere.
Our achievements so far
Established two active 'coalitions' in the UK (with 8-10 people in each), one working within pro-Israel communities, and one working within pro-Palestine communities, developing resources and opening up spaces for education leading to action focused on resolving the Palestinian-Israeli conflict
Produced a short documentary and educational workshop,

Solidarity Complex

, which examines the public protests in London during the January 2009 Gaza crisis, and which challenges us to think anew about how to create more effective public action - http://www.vimeo.com/7542969 - New Routes has run 12 workshops in the UK with a wide range of communities, and J Street U is using Solidarity Complex on US and Canadian university campuses.
We have also developed and delivered two other workshops entitled, 'The Effects of the Palestine/Israel on communal/faith relations in the UK' and 'What does it mean to be pro-Israel?'
Voices for non-violent change: Brought over to the UK speakers from Israel/Palestine supporting and showcasing voices from the ground working for pro-active, non-violent change and justice. Past speakers have included: John Ging, Mustafa Barghouti, Daniel Levy, Ali Abu-Awad, Ami Ayalon, Ayelet and Tzvika Shahak, Menachem Klein.
My final Word?Much of my thought and work is today focused on what work we need to do, and will be most effective, within our communities, and what work we need to do across communities. I sense a real appetite at present to rethink approaches and means by which we strive for justice for all and a resolution to the Israeli-Palestinian. I am inspired by the people I am currently working with to create joint, equal partnerships, so as to address the immense challenges that confront us.