Presentation of Johan Weisz-Myara: Fellow 2010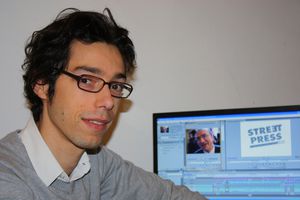 Who? I am Johan Weisz-Myara, 27 years old, Paris.
I am a media and social entrepreneur at StreetPress.com.
I am a journalist. I have been working since 2002 in different radios, newspapers, a news website and a TV channel and also worked on a book Opa sur les Juifs de France, enquête sur un exode programme (2000-2005) which was published by French editor Grasset in 2006. It's an investigation and report on French Jewry, French politics, Israel and anti-Semitism I wrote with Cécilia Gabizon, grand reporter at Le Figaro.
Diploma? Essec business school MBA. I specialized on new media economics (Chaire Media & Entertainment) and marketing management.
StreetPress, as a news website, is a tool for the 20-35 years old who can use the media to create interactions and have an impact on any level in the French society.
StreetPress.com is a professional-amateur collaborative news platform. It delivers verified and alternative news. Here the reporters are coached by our journalists, while on the field, doing their report. StreetPress develops local editions of the website and transmits its knowledge and savoir faire: All over the year, through the daily work and various media camps, we coach our reporters who are between 18 to 35 years old and come from any ethnic or social origin.
Achievements? StreetPress.com is proud of its 120.000 unique visitors per month. With partnerships with well established news websites, local councils and fondations, StreetPress has been working with 70 reporters in the last 6 months.
Motto in life ? Si vous pensez pour les gens, les gens penseront pour vous