Presentation of Naz Kozer: Fellow 2010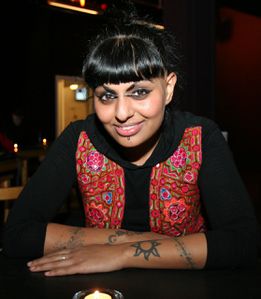 I am the Artistic Director and Founder of Ulfah Arts. During the last five years I have directed and produced a number of shows with British Muslim women. I am passionate about my faith and the Arts hence the creation of Ulfah, (Arabic for harmony). Born in the UK, I consider myself more British than Pakistani (having only been there once) and am considered to be a pioneering British Muslim contributing to British culture the essence of my Islamic faith. I founded Ulfah Arts after a personal tragedy born out of religious extremism and have worked with commitment and devotion to develop it in to an internationally recognised arts organisation. When not directing or running the operations of Ulfah Arts as Artistic Director, I make work under the artist name of Sufi Punk where I am interested in the shared attitude that can create two different extremes and uses a variety of forms in communicating her findings of common ground.
Ulfah Arts and Media my project. Our mission is to use creativity as a tool for self-awareness and interaction with the universe in order to create a more harmonious world
We believe creativity helps us to understand ourselves better and from this we can begin to make sense of our thoughts/actions to making a world a better harmonious place for us all to live in.
So far I have undertaken feasibility and developed our own philosophies and approaches and build a strong foundation on which to build an organisation
My motto is "To know Allah you have to know yourself."
My favourite quotation? "You have to risk going too far to discover just how far you can really go." Originally from T.S. Eliot
Final word? Peace