Presentation of Yacine Diallo: Fellow 2010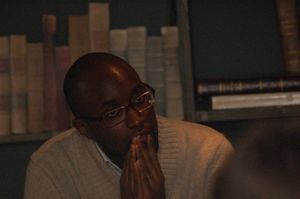 Four years ago, graduated from a Master in Business Law from Evry university, with no social network, I decided to left Paris Area for Luxembourg as I was not able to find my first long term internship. I worked as an internationl tax advisor four years in International advisory companies in Luxembourg.

Since one year, I decided to launch a project which aim to bring something to my community.

Savoirs Partages is a Paris and Luxembourg based non-profit organisation which wants to help students from French Universities with no socio professional network to set up and develop their own one network.

It is like multiply 0 by 0 and obtain something.

I am Yacine Diallo, 27 years old and the Founder of Savoirs Partagés.


Our mission is to facilitate the professional integration of graduate (Master's level) from Universities in "Big" companies and "middle sized" french based companies.


Our vision is that whatever its social origin, with the same potential and the same determination, any student from Universities should have the same opportunities as any student from any Business or Engineering School.

As the social network is decisive for the professional integration we consider that, every graduate student should have a social network - as developped in Anglo saxon Universities and in Business and Engenieering Schools. Our first answer to this point is the development of a e-tool allowing students from Universities to create and develop their first network: the alumni of the university. In that context, alumni@univ will be launch on October 2010 in the University Paris 13 - Villetaneuse.


Savoirs Partagés is a structure founded in January 2009 and did not benefit from any financial donation.

In this framework, the main actions of Savoirs Partagés are as follow:

. Paris structrure: more than 150 members . luxembourg - metz structure: more than 200 members . Development of alumni@univ in partnership with Cap Gemini
(http://www.capgemini.com/)
. Organization of around 15 Savoirs Partagés Drinks (Paris and Luxembourg) . Organization of a Savoirs Partagés Conference (Paris - January 2010) on:
"New uses of high tecnhologies for a better professional integration of students" with the support of Nathalie Kosciusko-Morizet (Secretary State for the development of High Technologies)


My motto: Who learns without action, plowing without sowing / Qui s'instruit sans agir, laboure sans semer

Final word? Equal opportunities for all ...this dream guide my actions!